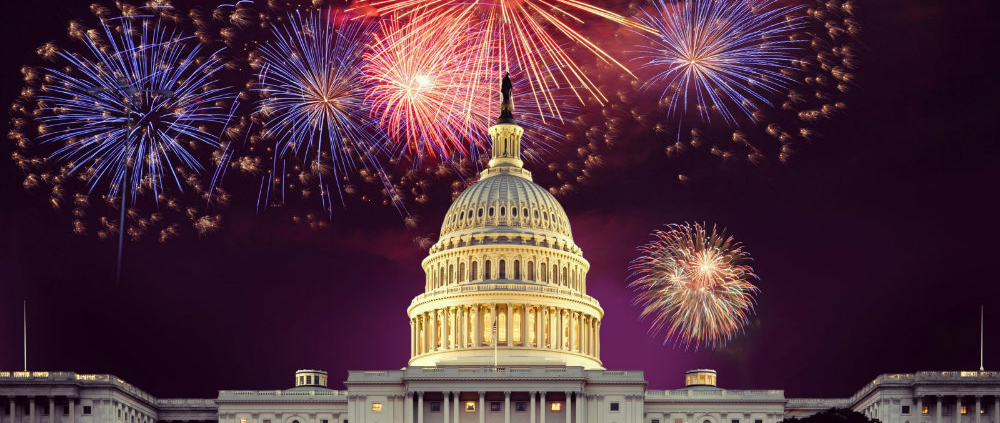 As the Fourth of July approaches, let us take a moment to consider the significance of the events in which we are celebrating, and reflect on a bit of the history. Aptly named, July 4th is also known as Independence Day, for it is the day in 1776 that the Declaration of Independence was finally approved by Congress, signifying the beginning of our great nation and the end of our governance by the British.
This year in Washington at the president's inaugural July 4th "Salute to America" on the National Mall, two pyrotechnic companies, Phantom Fireworks and New York-based Fireworks by Grucci, have pledged to put on the largest fireworks display ever seen in the D.C. area. The spectacle is promised to be a sight to be remembered.
Founding Father John Adams wrote to his wife Abigail on July 2, 1776, stating that Independence Day, "will be celebrated, by succeeding Generations, as the great anniversary Festival" and that the celebration should include "Pomp and Parade…Games, Sports, Guns, Bells, Bonfires, and Illuminations from one End of this Continent to the other." With this context, it does seem fitting that our nation's capital is set to unleash a firework display for the ages. John Adams would have it no other way, but let's leave the guns at home.
Around the country, millions of Americans will be making their way to celebrate freedom with friends and family. As John Adams predicted, we still celebrate this day with "pomp and parade…from one end of the continent to the other." Barbequing is a huge national tradition. It is estimated that approximately 150 million hot dogs and 700 million pounds are consumed on July 4th each year. No matter what the activity or the type of food, the Fourth of July is most prevalently celebrated by spending time with loved ones in fellowship; gatherings of all race, gender, and religious backgrounds.
This Independence Day, take a moment between the fun and fireworks to think about how truly remarkable this day in history was, and take in the realization of how fortunate we are as a society. Many Americans went to great lengths to ensure that we could live in this great and proud country, in the land of the free and the home of the brave.
The Sabre88 family wishes you all a very safe and happy Independence Day!
Sources:
https://wtop.com/fourth-of-july/2019/06/donations-make-trumps-july-4-salute-fireworks-show-dcs-biggest-ever/slide/1/
https://sabre88.com/wp-content/uploads/2020/07/July-4-6.jpg
525
1000
Nakira Whitehead
https://sabre88.com/wp-content/uploads/2020/07/sabre88_bc_logo_trans-Copy.png
Nakira Whitehead
2019-07-03 11:51:17
2021-03-25 13:22:05
Happy Independence Day!