"The biggest mistake a small business can make is to think like a small business"
—Postfilm Design

In the rapidly globalizing world in which we live today, many individuals neglect to take time to consider how great of an impact entrepreneurs have on our everyday lives. Dictionary.com accurately defines an entrepreneur as "a person who organizes and manages any enterprise, especially a business, usually with considerable risk." Indeed, being an entrepreneur is not for those who do not have a strong will to prevail. Evidently, if entrepreneurial-minded people like JK Rowling, Steve Jobs and Steve Wozniak, or Jeff Bezos never followed their grandiose visions, the world as we know it may have never read a Harry Potter book, experienced the IPhone, or enjoyed the benefits free two-day shipping with Amazon Prime.
While no two entrepreneurs are identical in their endeavors, business-minded individuals must be determined, dedicated and disciplined to ensure success in their small business undertakings as there really is nothing small about operating a business of any size. This message was reinforced at a "Big Think" series event sponsored by the Small Business Administration (SBA) on 21 September 2015, titled, "Economic Mobility: Entrepreneurship & the Opportunity Gap" in which panelists discussed how to reduce the barriers to starting a business and increase economic mobility through entrepreneurship. The esteemed panel of Congressman Donald M. Payne, Jr. (NJ-10), SBA Administrator Maria Contreras-Sweet, U.S. Senator Cory Booker (D-NJ), and Alan Krueger, Princeton University most notably touched on the topic of economic, political, and social discrimination of marginalized individuals (women, minorities, disabled persons, veterans, young people etc.) in small businesses. Findings by the SBA included reference to multiple studies which found disproportionate numbers of loan denials to minority business owners, despite controls for metrics of financial health1.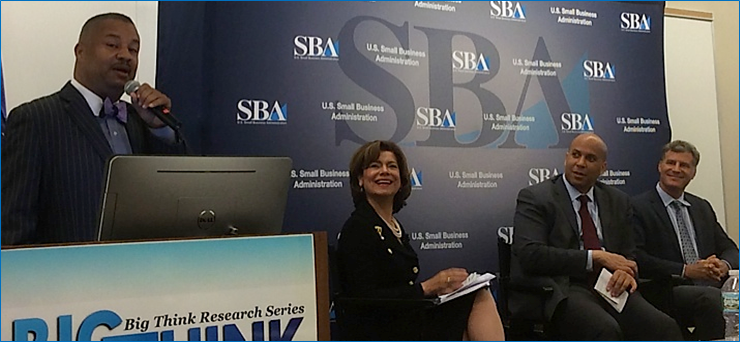 Big Think Panel photo: (Left to right): Congressman Donald M. Payne, Jr. (NJ-10), SBA Administrator Maria Contreras-Sweet, U.S. Senator Cory Booker (D-NJ), Alan Krueger, Princeton University
In an ideal world, an entrepreneur with a profound idea translated into a tangible business model and the willpower to execute should be able to fulfill their small business goals. Unfortunately, research shows that despite their growing economic significance, firms owned by women and minority entrepreneurs tend to be smaller, less profitable, and carry lower survival rates than their male or non-minority counterparts. In contrast, entrepreneurship has been found to be relatively more enhanced among white, native-born, and long-term community members when compared to minority, immigrant, and recent-entrant community members1. Furthermore, minority small business owners—especially Black and Hispanic entrepreneurs—are disproportionately denied credit when they apply for credit even after controlling for business credit scores, personal wealth, and revenues1.
This is a giant problem in the United States where the American dream is meant to provide equal opportunity to all of its citizens—including entrepreneurs—regardless of the race, creed, religion, age, gender, or socioeconomic status. Research implies, however, that the American dream inherently allows the aforementioned distinctions to limit small business ambitions. So, how can disadvantaged groups advance their opportunity for success in the world of small business?
Much of the answer lies in the advocacy efforts of both the SBA and the Office of the National Ombudsman—a small business overseer that has helped thousands of small businesses save time and money by resolving difficult regulatory compliance and enforcement issues. According to the SBA, The National Ombudsman works directly with federal regulators as part of President Obama's mandate to promote a level playing field for small businesses2. By working with federal regulators, The National Ombudsman is able to facilitate practical and timely resolutions of Regulatory Enforcement Fairness (REF) matters that impact small businesses. A few of the ways in which The National Ombudsman executes fair enforcement of small business regulation include2:
Providing small business owners a confidential way to report and resolve federal REF problems, like excessive enforcement action or disproportionate fines
Escalating small business concerns to federal agencies for fairness review and resolution
Grading federal agencies on their small business policies and practices
By connecting with The National Ombudsmen online, at regional SBA listening sessions, or in person, disadvantaged small business owners are able to provide helpful input on REF issues that can assist federal regulators to better comprehend how government can best support small business success. In fact, The National Ombudsman provides an annual report to Congress on its findings that highlights the impact of the policies and practices of every federal agency that touches small businesses. With these means, all hope is not lost for marginalized small business owners and entrepreneurs.
Kymn, Christine. "Access to Capital for Women- and Minority-owned Businesses: Revisiting Key Variables." Www.sba.gov/advocacy. The Office of Economic Research of the Office for Advocacy, 29 Jan. 2014. Web. 20 Sept. 2015.


"Advocacy and Ombudsman: Watching Out for the Interests of Small Businesses." Resource Guide for Small Business 2015: 52. Print.


 
https://sabre88.com/wp-content/uploads/2020/07/sabre88_bc_logo_trans-Copy.png
0
0
admin
https://sabre88.com/wp-content/uploads/2020/07/sabre88_bc_logo_trans-Copy.png
admin
2015-09-24 16:15:01
2021-04-09 10:04:41
Everything Matters: Entrepreneurs and Their BIG Obligation to Small Business