New York, NY – Benjamin Bratton, Sabre88 employee and member of the United States Men's Fencing Team, earned a Silver medal at the recent Pan American Games held in Toronto, Canada last month. The Pan American Games, the second largest multi-sport event in the world, is held every four years in the year preceding the Olympic Summer Games and is competed amongst athletes from nations in North, Central and South America.
Apart from Ben Bratton (New York City, N.Y.) the other two members of the trio were Jason Pryor (Colorado Springs, Colo.) and Yeisser Ramirez (Brooklyn, N.Y.)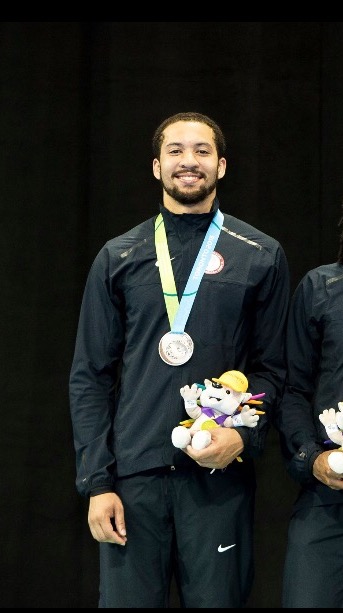 Team USA fenced Venezuela in the gold medal final which would serve as a rematch from the Pan American Championships 2 months earlier where the U.S. squad upset the Venezuelan team which was led by 2012 Olympic Champion Ruben Limardo for gold. Although Team USA tied both of the first two bouts, by the end of the fifth, Venezuela pulled away with a five-touch lead at 26-21. Although Pryor, Bratton and Ramirez each posted ties in the final bouts, Venezuela held its five-touch advantage to end the match, 45-40.
Typical Olympic athletes are forced to delay their professional careers in order to focus on competition and training, leaving many with the overwhelming question of what to do in their post athletic careers. For Bratton, an Executive Assistant at Sabre88, he credits recent successes to his ability to achieve an idyllic balance between both his professional and athletic careers with the federal contracting firm. Now with a Silver Medal in hand from one of the world's most prestigious events, Bratton, currently the United States' overall number one men's epee fencer, has his sights set on the 2016 Summer Olympic Games in Rio de Janiero next August.
"I am really excited and motivated to be this close to achieving a lifelong dream," says Bratton. "I wouldn't have been able to achieve this success without the support of Sabre88 that has provided me with the guidance to balance my professional and athletic goals.
Sources: Nicole Jomantas. (07/25/2015). TEAM USA WINS WOMEN'S EPEE TITLE, TAKES SILVER IN MEN'S EPEE AT THE PAN AM GAMES
https://sabre88.com/wp-content/uploads/2020/07/sabre88_bc_logo_trans-Copy.png
0
0
admin
https://sabre88.com/wp-content/uploads/2020/07/sabre88_bc_logo_trans-Copy.png
admin
2015-08-13 02:58:03
2021-04-09 10:52:34
Sabre88 Employee Wins Silver Medal Pan American Games