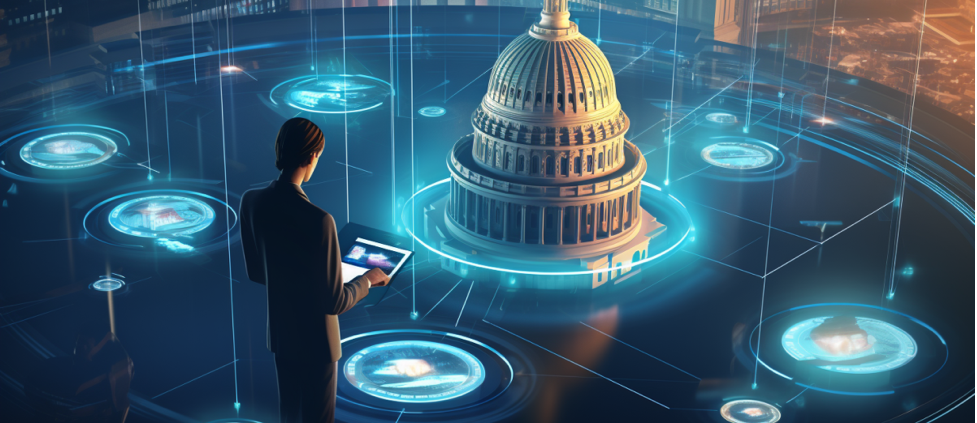 On October 30th, the Biden Administration released a significant Executive Order on the Safe, Secure, and Trustworthy Development and Use of Artificial Intelligence. This order underscores the importance of governing AI development and utilization safely and responsibly. In this blog, we will delve into the key aspects of this Executive Order and its implications for AI development and deployment in the United States.
1. Prioritizing Safety and Security
The administration recognizes the rapid advancements in AI capabilities and the need for the United States to lead in shaping the responsible development and deployment of AI. The order emphasizes the potential benefits of AI in solving pressing challenges while acknowledging that irresponsible AI use can lead to societal harms such as fraud, discrimination, bias, and disinformation. To address these challenges, a coordinated, government-wide approach is required, involving various stakeholders, including government, private sector, academia, and civil society.
2. Guiding Principles and Priorities
The Executive Order outlines eight guiding principles and priorities that shape the administration's AI policy:
Safe and Secure AI: Ensuring AI systems are safe and secure, with a focus on addressing security risks in areas like biotechnology, cybersecurity, and critical infrastructure.
Testing and Evaluation: Implementing testing and post-deployment performance monitoring to ensure ethical and secure AI systems that comply with Federal laws and policies.
Responsible Innovation: Promoting responsible innovation, competition, and collaboration to lead in AI development and solve societal challenges.
Workforce Development: Supporting programs to provide Americans with AI skills and attract global AI talent to contribute to American innovation.
Promoting a Fair Ecosystem: Fostering a fair, open, and competitive marketplace for AI, including measures to address unlawful collusion and dominant firms' use of key assets.
Supporting American Workers: Ensuring that AI development creates opportunities and benefits for all workers, with a commitment to job training and education.
Equity and Civil Rights: Advancing equity and civil rights by preventing AI from exacerbating existing inequities and discrimination.
Consumer Protection and Privacy: Enforcing consumer protection laws and safeguarding privacy and civil liberties as AI continues to advance.
3. Government Action
The Executive Order specifies several actions to be taken within certain timeframes, among them here are seven of the most relevant:
Guidelines and Best Practices: Within 270 days, the Secretary of Commerce, in coordination with other relevant agencies, will establish guidelines and best practices for safe, secure, and trustworthy AI system development.
AI Red-Teaming: Guidelines for AI red-teaming tests will be established to evaluate AI systems' safety and security, particularly dual-use foundation models.
Cyber Defense: The Secretary of Defense and the Secretary of Homeland Security will report on actions taken to develop and deploy AI capabilities effectively for cyber defense, including identifying vulnerabilities and lessons learned.
Critical Infrastructure Assessment: Agencies with regulatory authority over critical infrastructure will evaluate potential AI-related risks and ways to mitigate vulnerabilities, with a focus on cross-sector risks.
Financial Institutions: The Secretary of the Treasury will issue a public report on best practices for managing AI-specific cybersecurity risks in financial institutions.
AI Risk Management Framework: The Secretary of Homeland Security, in coordination with the Secretary of Commerce, will incorporate the AI Risk Management Framework and relevant security guidance into safety and security guidelines for critical infrastructure.
Mandating Guidelines: Following the completion of guidelines, the Federal Government will work to mandate them through regulatory or other appropriate action.
4. Global Leadership
The Executive Order emphasizes the importance of engaging with international allies and partners to develop a global framework for managing AI risks, unlocking its potential for good, and promoting common approaches to shared challenges. The Federal Government will lead in global conversations and collaborations to ensure that AI benefits the world and does not exacerbate inequities or threaten human rights.
The Biden Administration's Executive Order on AI reflects a comprehensive and proactive approach to addressing the challenges and opportunities presented by artificial intelligence. By prioritizing safety, security, and responsible development, the administration seeks to ensure that AI benefits society while minimizing risks. It also places significant emphasis on equity, privacy, and global leadership, underlining the United States' commitment to shaping AI's future in a responsible and inclusive manner. As the implementation of these policies unfolds, the U.S. moves closer to realizing the full potential of AI while protecting the interests and rights of us the citizens.At Sabre88 we have taken an interest in the future of AI and what it will do for the United States of America.
*As defined by the White House, The term "artificial intelligence" or "AI" has the meaning set forth in 15 U.S.C. 9401(3): a machine-based system that can, for a given set of human-defined objectives, make predictions, recommendations, or decisions influencing real or virtual environments. Artificial intelligence systems use machine- and human-based inputs to perceive real and virtual environments; abstract such perceptions into models through analysis in an automated manner; and use model inference to formulate options for information or action.
Cited Sources:
https://sabre88.com/wp-content/uploads/2023/11/AI_Picture1.png
547
977
Bobby Cottingham
https://sabre88.com/wp-content/uploads/2020/07/sabre88_bc_logo_trans-Copy.png
Bobby Cottingham
2023-11-07 08:21:10
2023-11-07 08:21:12
Advancing Responsible AI: Understanding the Biden Administration's Executive Order on AI